Ruffrences
After a near-decade of service at Premiere Dog Services, we've got quite the following! Check out our reviews!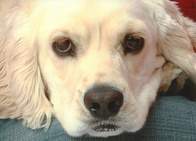 Bentley is our furry baby! The first time we had to go out of town for the weekend, we were a mess leaving Bentley behind. He was only about 5 months old, and what we like to say, high maintenance.
He's very spoiled and demands much of your attention. Chuck stayed with him over the weekend at our house, and answered out numerous calls a day – worrying about our baby. We couldn't have been more pleased, walking in the door to a happy puppy and clean house!
Chuck even worked with Bentley on the commands and tricks we were working on with him, and he was noticeably better. Now, Bentley is almost 3 years old, and Chuck is still the first person we call when we need help with Bentley. Always going above and beyond to make sure all of us are happy.
Chuck Johnson has been walking my dog, Koby, since beginning of 2010. I have to say, in my dog's 8 year life, Chuck has been the best dog walker/sitter I have ever had. Besides the obvious skill set that Chuck posses which are he's Organized, Punctual, Attentive, Great Communication, Honest, etc, Chuck has displayed an amazing relationship of caring for Koby like family (Uncle Chuck).
Also, he is extremely dependable, even on short notice. Chuck leaves notes of every walk with time/date, message about the actual walk, and he gives a small treat and water to make Koby happy each time. I have recommended Chuck to several of my friends, and all of them will say the same about him.
I could not be any happier with Chuck being in Koby's life, and I have to say Koby feels the same way since he runs to the door every time Chuck comes to walk him. I highly recommend Chuck as a dog walker/sitter/trainer for his experience and talents, and if anyone needs a personal reference, please send me an email at jahan@wwsinc.net. Thanks Chuck for being a Blessing to Koby and I!
My dog, Dexter, loves his mid-afternoon walks with his "Uncle Chuck". Chuck has been walking Dexter for over a year and has also been helpful for overnight stays when I've had to be away for work. He is very patient with my dog, especially when he wants to sniff bushes, trees, and the grass. Dexter also is kept safe when he leaps at the squirrels and other furry creatures he encounters on his walks.
I often get updates during the day when Dexter has done something funny or just to let me know that Dexter has expended all his energy on his walk and is back in the house. I am sure Chuck would let me know if there was some medical issue that needed attention. Chuck also is easy to reach when we need to talk about schedules.
Chuck treats Dexter like he is one of his own. Dexter also likes the pig ears (or Kong) Chuck gives him as his after-walk dessert. When I come home, Dexter is a happy, relieved dog. And any information I may need is on the white-board provided. I highly recommend Chuck to anyone who needs help with his or her dog.
As a busy, single, working professional, Chuck has truly been a blessing over the last 6 months. I began using him as a dog walker when I bought Lily, a four month old Chihuahua. I was apprehensive at first (having never used a dog walker before), but the experience has proven to be nothing less than fantastic.
In addition to being consistently reliable when it comes to his walking services, Chuck has gone above and beyond his normal responsibility to help me with a number of pet ownership challenges. He has helped with vet appointments when work prohibited me from being able to do so and advised on the area's best boarding facilities when I needed to go out of town (even volunteering to take Lily for the weekend himself).
When Lily began showing increasing signs of anxiety, Chuck helped me understand my options in regards to behavior training and medication. He is very knowledgeable and always has good insight when I have questions or concerns about Lily. It's such a relief to be able to go to work and know my little girl is in great hands! I highly recommend Chuck's services to anyone whose number top priority is the wellbeing and happiness of their dog.
Chuck has always provided consistent and loving care for our lab-border collie, Liddy. Liddy has quite the exuberant personality and Chuck has warmed his way into her heart (and ours) with his cheerfulness, positive behavior reinforcement, and obvious affection.
We've never had a service or billing issue, trust Chuck completely in our home, and appreciate his flexibility in occasionally filling in for unanticipated after-hours visits. Having had mixed experiences with dogwalkers/petsitters in the past, we consider Chuck a true find and are grateful we found someone so wonderful to take care of Liddy.
I have been very, very happy with the service dog walking services that Chuck has provide to Gus, my dog. I have always felt very comfortable knowing that Gus will be in good hands on the evening that I cannot make it home on time.
Gus requires special care — he's a wonderful dog, but he does not play well with other four legged friends and Chuck was completely reassuring and relieved me of any dog-parent worries. Additionally, Chuck has always been very accommodating when I've needed to make changes to my schedule, even when it involves a weekend day. Gus and I have been very satisfied clients!
Bret & Alie
Derby & Eloise
My wife and I are writing to whole heartedly recommend Chuck Johnson as a dog walker and petsitter. We have been working with Chuck for the past two months and have found him to be a true professional on all fronts. He has taken tremendous care of our dogs, Eloise and Derby, and they absolutely love him. He is known as "Uncle Chuck" in our house!
Kind, courteous, conscientious, organized and reliable, Chuck has provided excellent service and has gone above and beyond the normal duties of a dog walker and pet sitter on numerous occasions. We come home to a well written progress report on the day's activities and often find that Chuck has taken the pups to the dog park so they can have extra play time (with our permission of course!). When he pet sits, we come back to a house cleaner than we left it with fresh cut flowers on the kitchen table. Recently, we had some issues with construction workers in our home while on vacation and Chuck handled them with ease and made us feel totally comfortable that our home and our dogs were in great hands.
He loves our dogs like they are his own and we feel very lucky that we've found a petsitter we can rely on; we can't recommend his services enough!
Chuck was the "go to" guy for any help with my older cat Sofie. She was my "special needs" friend and Chuck would go the extra mile to take her to get nails trimmed, vet visits, and pet sitting. He would even come over and help me look for her when she would wonder off, pick-up kitty litter and food/treats. And on a very sad day, Chuck was the one person I needed to reach out to when help was needed at the end of Sofie's life.